I decided to share some of my own siren pictures. This is a little bit re-posted from a thread I created on Steel Soldiers awhile ago:
https://www.steelsoldiers.com/threads/a ... ns.202141/
I've been fascinated with air raid sirens since I was a kid. The town I grew up in had a couple, a primary and a backup. The primary one used to sound a two-minute hi-lo signal every noon to let everyone know it was lunch time. When I was really little, I was scared of its loud noise. But when I got older, I learned to appreciate it and its workings. And now I have my own siren to tinker with!
I'm thankful that growing up I didn't have to worry about their original purpose - warning of air raids or nuclear attack. My dad, who also grew up in the same town, recalls performing the duck and cover drills at the school with the siren sounding an attack signal. When I went through the school, there was no duck and cover drill as that time had past. Instead, the siren mainly signaled fire emergencies in hi-lo mode, calling firefighters to the fire hall to mount up and warning those near the fire station to get out of the way of departing trucks!
I wanted to share a few pictures of sirens I've taken over the years and any back story to them.
I'll start with the sirens from where I grew up in Caledonia, NY: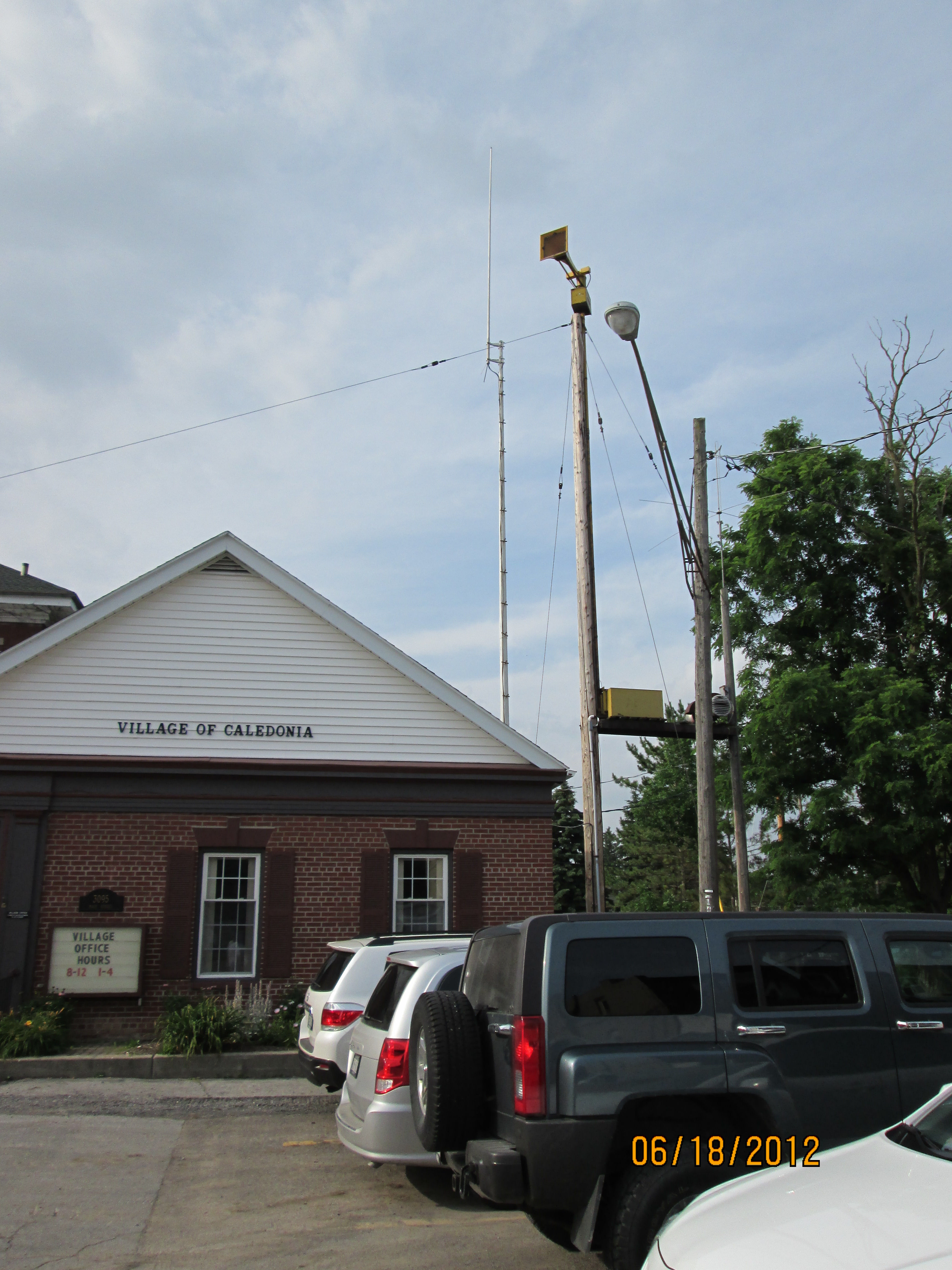 IMG_0061.JPG [ 3.01 MiB | Viewed 260 times ]
The yellow siren at the top of the pole is a Federal Signal Thunderbolt 1003. It was given to the Town of Caledonia in the early 1950s as part of a Civil Defense grant from the Department of Defense. The siren is dual-tone.
IMG_0066.JPG [ 2.23 MiB | Viewed 260 times ]
Here's the blower cabinet: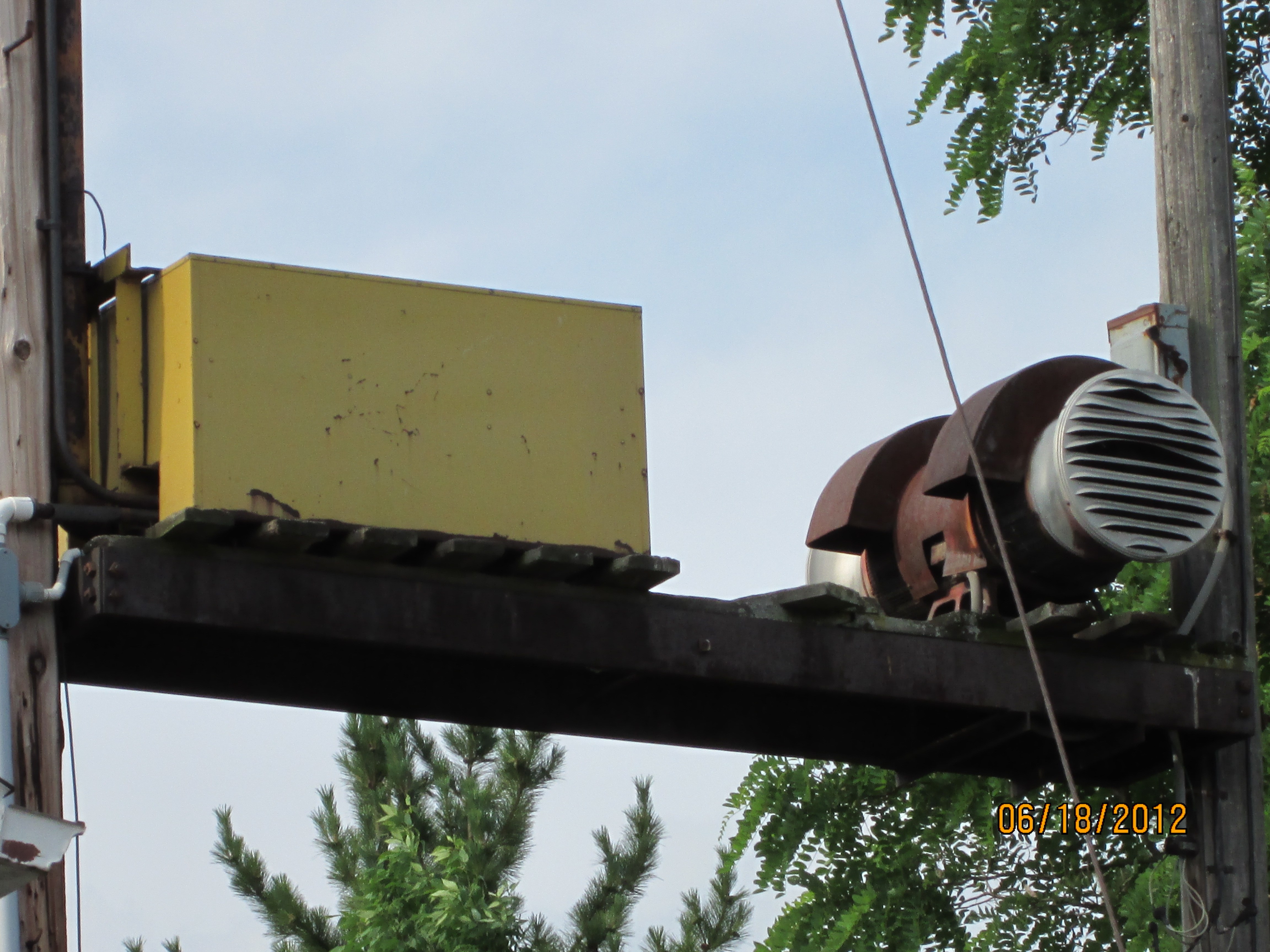 IMG_0071.JPG [ 2.48 MiB | Viewed 260 times ]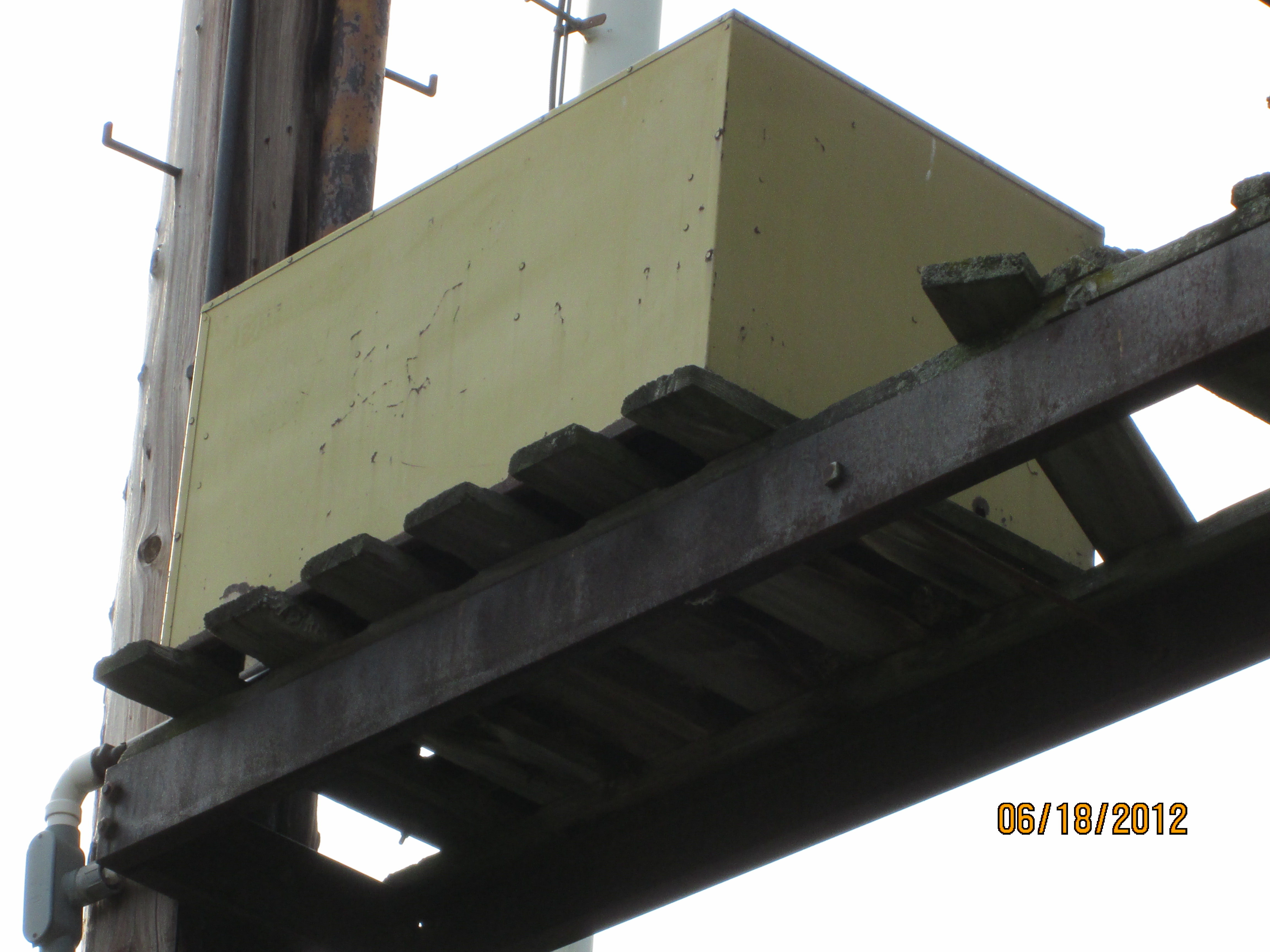 IMG_0083.JPG [ 2.02 MiB | Viewed 260 times ]
The town's original siren was perched next to the Thunderbolt's blower cabinet. That siren is a Sterling M45, manufactured in Rochester, NY (about a half-hour north of Caledonia). This siren was originally located atop another building, perhaps the existing town hall structure, before it was relocated to the Thunderbolt's siren tower. I only heard this siren sound twice in my lifetime when the Thunderbolt's horn and chopper were being rebuilt around 2000.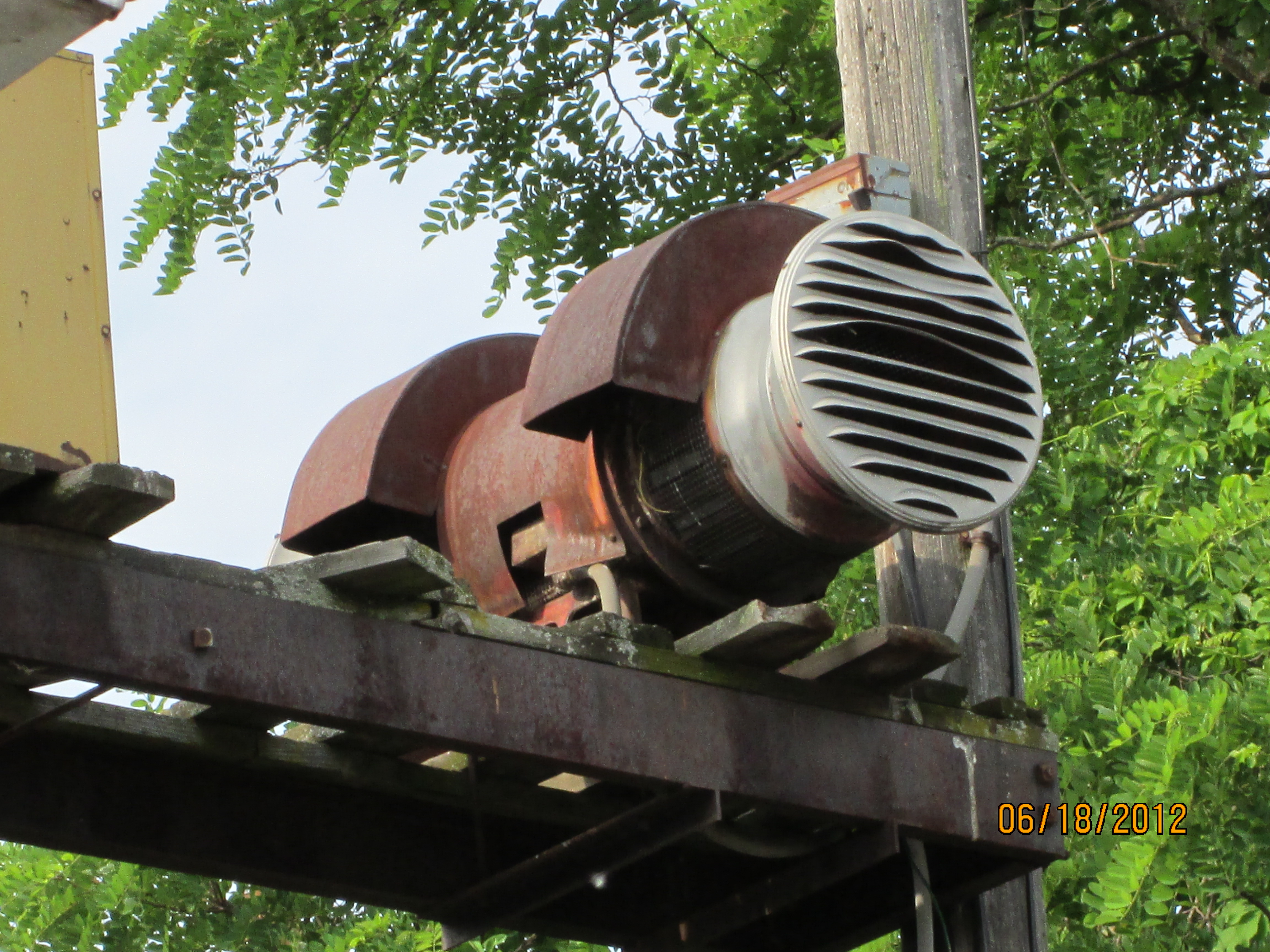 IMG_0076.JPG [ 3.14 MiB | Viewed 260 times ]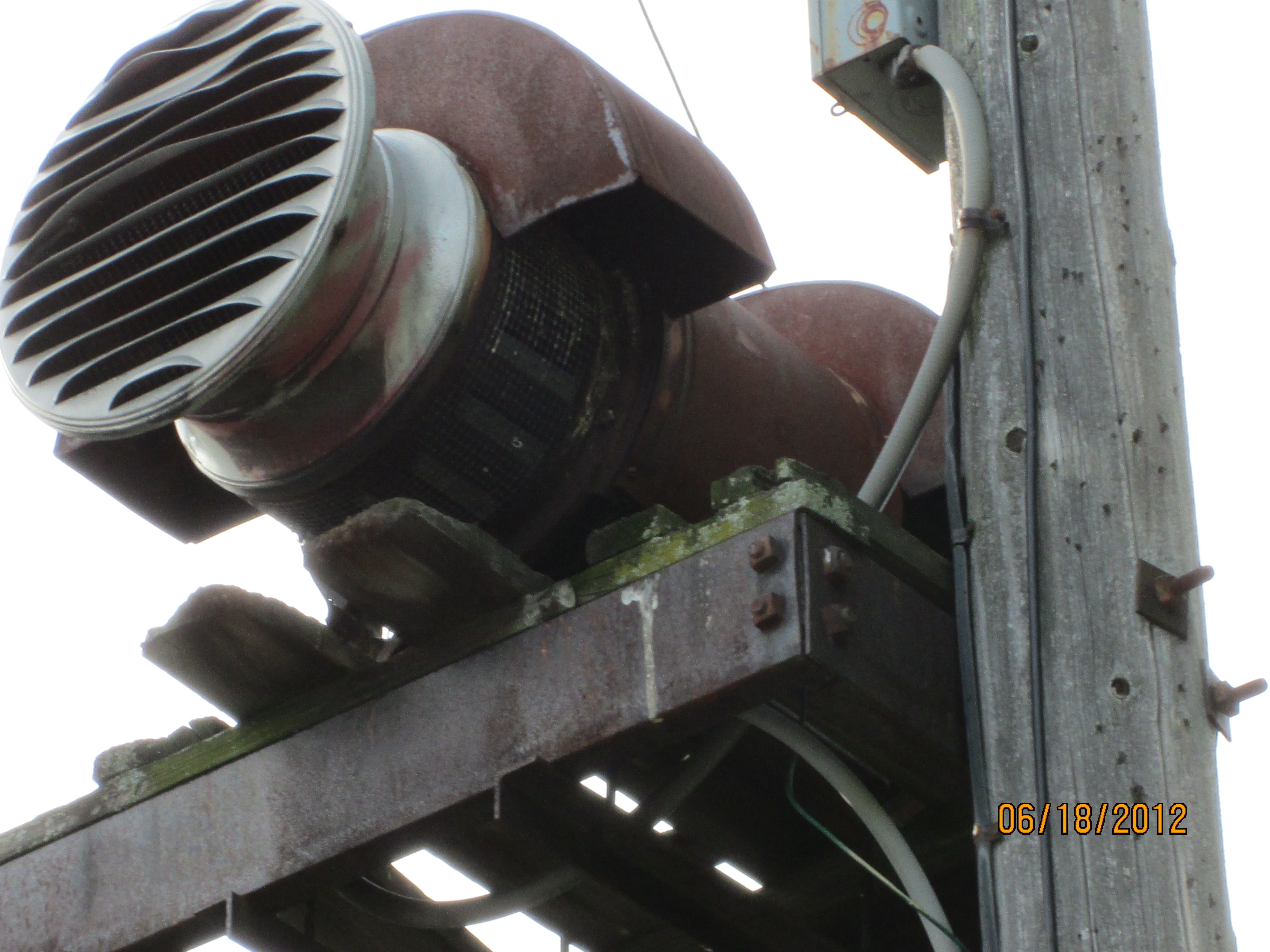 IMG_0081.JPG [ 2.42 MiB | Viewed 260 times ]
Both sirens required 3-phase power to operate (although the Thunderbolt's chopper and rotator only required 110V single-phase - the roots blower was the energy sucker). This became a problem when a Thunderstorm in 2011 or early 2012 trashed the 3-phase power to the fire department. The fire department was unwilling to repair the expensive power source and opted to replace the sirens with an electronic Whelen siren that runs on single-phase power and has battery backup. The Thunderbolt was also comparatively maintenance-intensive, requiring periodic oiling, greasing, and belt retensioning for both the rotator box and roots blower. The Thunderbolt and the M45 were retired, with the Thunderbolt's horn on display atop an old fire bell in front of the Caledonia Fire Hall. As far as I know, the town still owns both sirens and has them and their controls in storage, intending to display them at the Big Springs Museum at some point.