Just thought this would be an interesting thing to note:
This forum was frequently mentioned in a report done by the U.S. Department of Homeland Security in March 2015, which was a market survey report done by the agency that evaluated the type of sirens on the market and compiled a list of siren types.
Taking a look at one of the photos in the introduction, I noticed a picture from this forum on there. Taking a closer look, I noticed ARS is credited in the photo credit!!!
I just thought that it was really cool that even government agencies value the information on this board and our interest in sirens. Makes me feel a little less odd when I have to explain this hobby to new people I meet constantly.
Here's the screenshot on Page 1 of the Introduction. It shows a Federal Signal Model 5 siren; which is obviously no longer made.
Also interesting to note, in the 'Technology overview' section, the report erroneously refers to "pneumatic sirens" when they're actually describing "electro-mechanical sirens."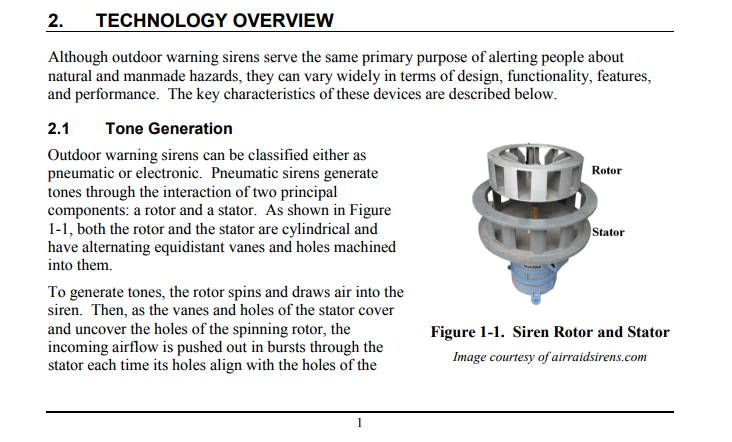 Screen Shot 2018-11-28 at 4.36.36 PM.png [ 155.96 KiB | Viewed 320 times ]
Here's the full link to the report if anyone's interested in reading the entire thing.
https://www.dhs.gov/sites/default/files ... 15-508.pdf
_________________
firefreak57, Fire Alarm and Siren Enthusiast. 18, and living in NE Ohio.
Proud owner of an ACA Allertor 125 Single Phase Control Cabinet.
My YouTube Channel
|
Summit County Siren Map
|
Cuyahoga County Siren Map