... You've been bitten already, Robert, think what could have happened to you.
P.S. That would be a good display -- the siren in a case, spinning at about 15 rpm to show how it works, and every half-minute or so (or when a button is pushed) it speeds up just enough to make a sound. Good demonstration. It'd need a little programming of a controller, but nothing outrageous. Adam Smith could have it going in no time.
You have a good idea of slow rpm with ability to increase for sound.
I'd even want to go further with a tiny smoke thread, like from a cigarette, to see what happens.
I was knowingly taking a risk of trying to spin this siren fast enough to be audible.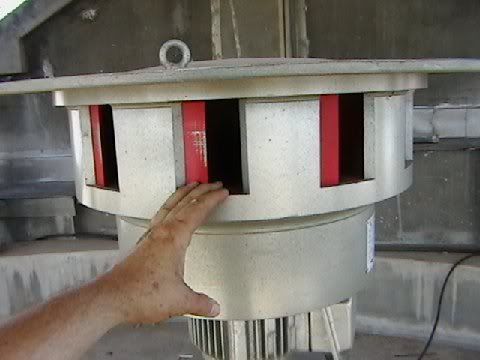 We may get to see this one again in 2009!
I suggested my wife now visit her aging parents every year, not every two years.
July 22nd, 2009 a total solar eclipse will be seen in China.
We should combine visiting her parents with going to Shanghai to be in the path of totality.
(I have been in the moon's shadow once! - La Paz, Mexico, June 1991. Anyonelse here been in the moon's shadow?)
This is likely the closest we will ever be to this rare phenomena in our lifetimes.
Then be present when the City of Yantai performs their annual air raid siren test August 15th. Hopefully this siren won't fail to operate as in 2006.